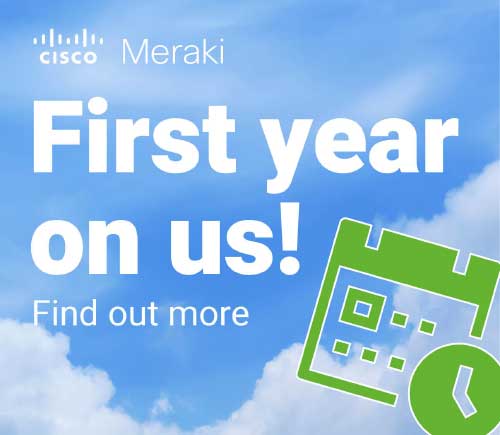 Get an additional year of coverage at no extra cost when purchasing a new Cisco Meraki cloud management license for 3 years or more!
FAQ HERUNTERLADEN
Einfach zu verstehen. Leicht zu verkaufen.
Mit dem zentral in der Cloud verwalteten Wireless-, Switching-, Sicherheits- und Gerätemanagement bietet Meraki jedem Netzwerkadministrator Transparenz und Kontrolle, ohne die Kosten und Komplexität einer traditionellen Umgebung zu beanspruchen.
Nutzen Sie die Möglichkeiten, die Cisco Meraki den Partnern von Ingram Micro bietet.
Neueste Meraki Produkte
Erweitertes Meraki Cloud-Networking vorgestellt
Die Hardware der Meraki Gateway-Reihe bietet zuverlässige Konnektivität über eine LTE-Mobilfunkverbindung für alle Ihre Netzwerk-Edge-Geräte sowie Einblicke in die Konnektivität, um die Qualität Ihrer Verbindung zu verstehen.
Das MG21-Mobilfunk-Gateway vereinfacht den Weg zur drahtlosen WAN-Konnektivität und macht das Mobilfunknetz in vielen Netzwerken zu einer praktikablen Uplink-Option.

MG21 fungiert als Gateway zu Mobilfunknetzen, indem es das LTE-Signal eines Mobilfunkanbieters in ein Ethernet-Handoff-Signal umwandelt, das als Internet-Uplink für eine Vielzahl von Anwendungsfällen genutzt werden kann.
Zentrale Verwaltung über das Netz
Zero-Touch: automatische Bereitstellung
Tools zur Remote-Fehlerbehebung
Secure, user-scheduled firmware updates
Fernabfrage der wichtigsten Mobilfunkinformationen: IMEI, ICCID, APN, RSRP, RSRQ
Technische Daten...
Hier klicken,

um mehr zu erfahren
HELFEN SIE IHREN KUNDEN, GESCHÄFTSBEREIT ZU SEIN...
VOM ERSTEN TAG AN!
CISCO CAPITAL FINANCE
1 % Rabatt auf jeden Abschluss.
Sie wünschen sich rentablere Abschlüsse? Erhalten Sie 1 % Rabatt auf alle Cisco-Deals, die mit easylease finanziert werden. Ebenfalls...
Financing Products
Angebote
Lifecycle-Finanzierung
MEHR ERFAHREN
Einfache und kostengünstige Cloud-Vernetzung für Kleinunternehmen
Vereint WLAN-fähige und kabelgebundene Geräte für Kleinunternehmen, um ein schnelles, sicheres und zuverlässiges Netzwerk zu schaffen, das über eine intuitive mobile App verwaltet wird.
Einfache und sichere Vernetzung

Einzelunternehmen mit bis zu 50 Mitarbeitern

Niedrigere Preise über das gesamte Produktportfolio

Perfekt für Unternehmen mit geringen oder keinen IT-Kenntnissen

Keine Abonnementlizenz erforderlich – einfach einstecken und loslegen!
LÖSUNGSÜBERBLICK
Warum ist Meraki Go perfekt für Ihre Small Business-Kunden?
Diese einfache Cloud-basierte liefert die gleiche Leistungsfähigkeit von Unternehmensnetzwerken, aber an die sich ständig ändernden Bedürfnisse kleiner Unternehmen angepasst und übergibt den Managern die Kontrolle über ihr Internet und WLAN.
WERDEN SOWOHL KABELGEBUNDENE ALS AUCH DRAHTLOSE VERBINDUNGEN BENÖTIGT?
Bietet ein erschwingliches Produktportfolio mit Access Points, Sicherheits-Gateways und Netzwerk-Switches
Schaffen Sie getrennte Geschäfts- und Gastnetzwerke
WLAN-SICHERHEIT IST EIN WICHTIGER ASPEKT?
Mit automatischen Firmware-Updates und leistungsstarkem Router und Firewall
Gewährleisten Sie kontinuierliche Sicherheit und schützen Sie geschäftskritische Daten
EINFACHE PLUG-AND-PLAY NETZWERKLÖSUNG?
Die intuitive App führt den Kunden durch den einfachen Installationsprozess – innerhalb von 10 Minuten ist alles einsatzbereit
Verwalten und Konfigurieren der Netzwerkeinstellungen für individuelle Geschäftsanforderungen
Case Study: Ice and a Slice Studios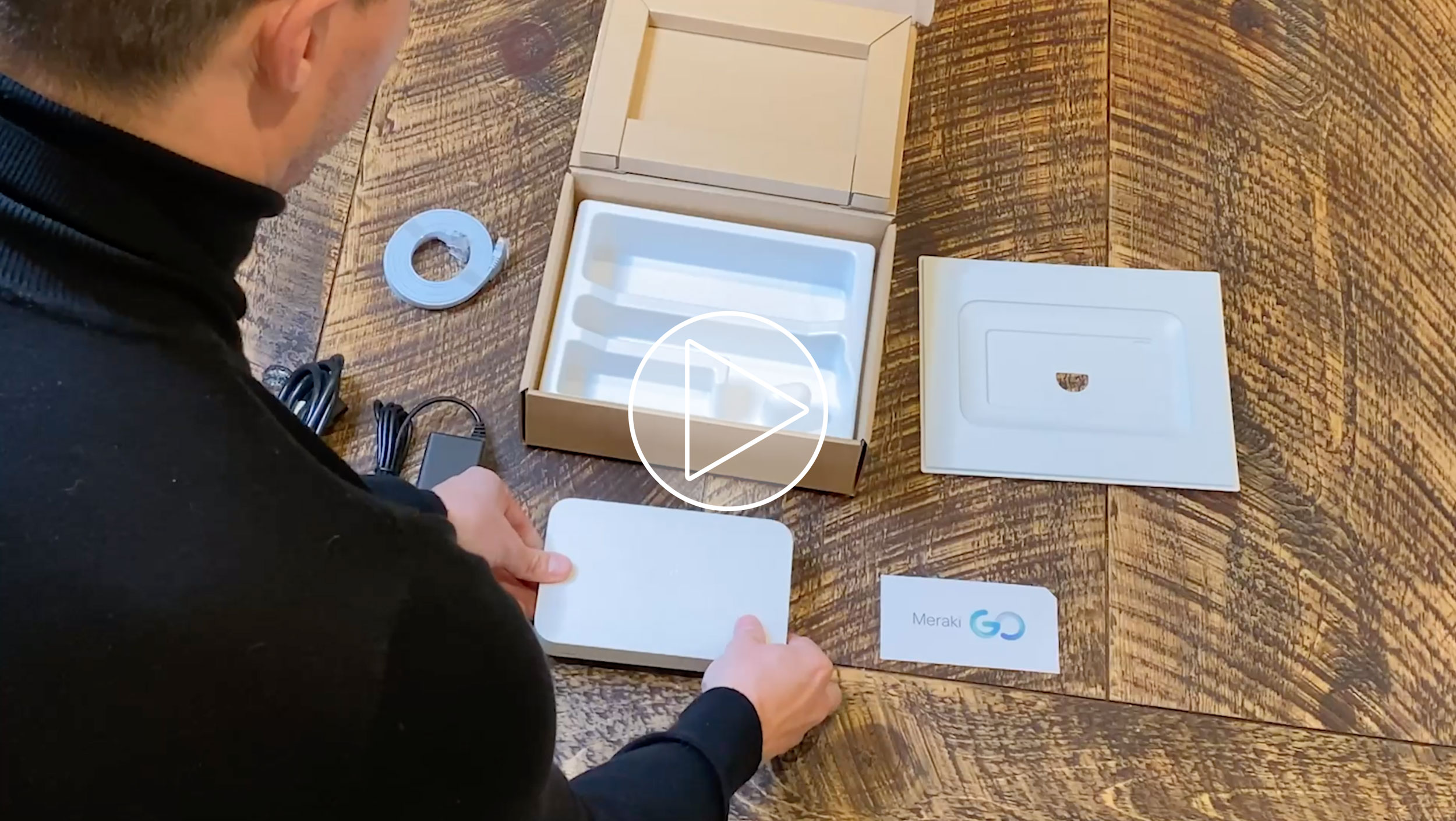 "We were surprised by a solution from Cisco Meraki that did everything we wanted and a whole lot more."
Simon Williams, Ice and a Slice Studios
DENKEN SIE DARAN, DASS BENUTZER, DIE LÄNGER BLEIBEN, MEHR AUSGEBEN!
Die Partner-Verkaufsstrategie für Meraki Go ist einfach
GERINGER AUFWAND, NIEDRIGER PREIS
Einfaches Preismodell
HOHES UMSATZVOLUMEN
Zielgruppe: Kunden in Kleinunternehmen
Bestellen ist einfach – Sie müssen nicht über CCW gehen, um Meraki Go zu verkaufen.
Kaufen Sie direkt bei Ingram Micro
Gehen Sie zu IM Online, um Meraki Go Access Points, Sicherheits-Gateways und Netzwerk-Switches zu kaufen.
Durch Konfigurieren der Netzwerkeinstellungen können Unternehmen individuelle Lösungen anbieten und sofort einen Mehrwert bei der Optimierung des Betriebs und der Steigerung der Benutzerzufriedenheit erzielen.
Denken Sie daran, dass Benutzer, die länger bleiben, mehr ausgeben!
Um Ihnen die Entscheidung zu erleichtern, ob Meraki Go das Richtige für Ihre Kunden ist, sehen Sie sich dies Entscheidungsbroschure an.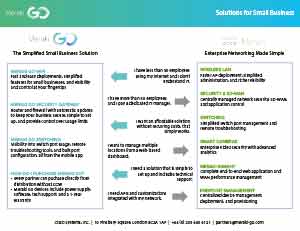 IST MERAKI GO DIE RICHTIGE LÖSUNG?
DIE RICHTIGEN KUNDEN ANSPRECHEN!
Kleines Büro
EINZELBÜROS MIT UNTER 50 MITARBEITERN
Einzelhandel
LOCAL & INDEPENDENTLY OWNED STOREFRONTS
Gastgewerbe
LOKALE GESCHÄFTE MIT WENIGER ALS 50 MITARBEITERN
Wenden Sie sich an Ihren Ingram Micro Account Manager um weitere Informationen darüber zu erhalten, was Meraki Go zu einem einfachen Verkaufsargument macht, mit dem Sie Ihren Umsatz steigern können
REDEN WIR DARÜBER
Verkaufen leicht gemacht
Ihr Kundenkontaktprogramm für den Verkauf von Meraki
Bauen Sie Ihr Cisco Meraki Angebot aus und erschließen Sie weitere wertvolle Kundenkontakte mit Ingram Micro. Holen Sie sich Kunden an Bord, steigern Sie wiederkehrende Umsätze und Ihre Rentabilität indem Sie Cisco Meraki verkaufen.
Für das Programm ANMELDEN
Hochwertige KUNDENKONTAKTE erhalten
Bauen Sie ein PROFITABLES Meraki-Geschäft auf
VIDEO ANSEHEN
ZUKUNFTSFÄHIGES CLOUD-NETZWERK

DAS ÜBERZEUGT UND IHNEN HILFT

PROFITABEL ZU BLEIBEN
Nehmen Sie am Meraki-Partnerprogramm teil
Werden Sie Meraki-Partner und bieten Sie Ihren Kunden eine Cloud-verwaltete Lösung, die ihr Unternehmen auf die nächste Stufe hebt.
HAUPTVORTEILE
MEHR LESEN
REGISTRIEREN SIE SICH IM CISCO MERAKI PORTAL
ERHALTEN SIE INDIVIDUELLE MERAKI-EMPFEHLUNGS-LINKS
SCHICKEN SIE KUNDEN IHREN "EMPFEHLUNGS-LINK" PER E-MAIL, DAMIT SIE SICH FÜR DAS MERAKI WEBINAR ANMELDEN
WEISEN SIE DARAUF HIN, DASS ALLE BERECHTIGTEN TEILNEHMER EINEN KOSTENLOSEN ACCESS POINT ERHALTEN
BEHALTEN SIE IM PORTAL DEN ÜBERBLICK ÜBER KUNDENKONTAKTE
VERFOLGEN SIE IHRE KUNDENKONTAKTE
EMPFEHLEN

SIE IHREN KUNDEN NOCH

HEUTE DAS CISCO MERAKI WEBINAR

Wenden Sie sich an Ihren Ingram Micro Account Manager um weitere Informationen zu unserem Kundenkontaktprogramm zu erhalten.

INGRAM MICRO - ein echter Partner für Ihren Einstieg bei Cisco Meraki!
REDEN WIR DARÜBER