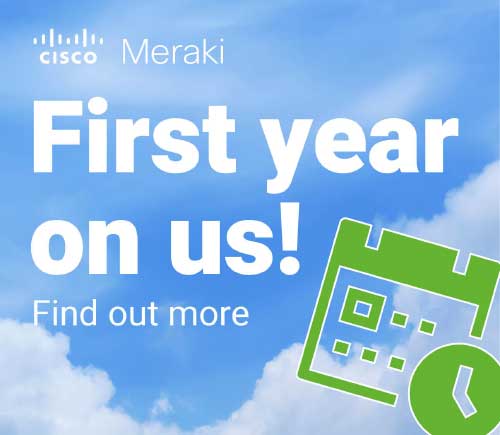 Get an additional year of coverage at no extra cost when purchasing a new Cisco Meraki cloud management license for 3 years or more!
Download FAQ
Simple à comprendre. Facile à vendre.
Avec le sans fil, la commutation, la sécurité et la gestion des appareils centralisée à partir du cloud, Meraki offre aux administrateurs de réseau la visibilité et le contrôle sans le coût ni la complexité des architectures classiques.
Profitez des opportunités que Cisco Meraki offre aux partenaires avec Ingram Micro.
Les derniers produits
Lancement récent des solutions réseau sur le cloud amélioré Meraki
La solution matérielle Meraki sous forme de passerelle garantit une connectivité fiable sur une connexion cellulaire LTE pour tous les appareils périphériques de votre réseau, fournissant également des indications sur la connectivité pour déterminer la qualité de votre connexion.
La passerelle cellulaire MG21 simplifie la voie menant à la connectivité WAN sans fil, faisant ainsi de la solution cellulaire une option de liaison montante viable pour de nombreux réseaux.

MG21 agit en tant que passerelle vers des réseaux cellulaires, en convertissant le signal LTE d'un fournisseur cellulaire en un transfert Ethernet qui peut servir de liaison montante Internet pour toutes sortes de cas d'utilisation.
Gestion centralisée sur le web
Déploiements automatiques, ne nécessitant aucune intervention
Outils de résolution des problèmes à distance
Secure, user-scheduled firmware updates
Visibilité à distance d'informations clés d'ordre cellulaire : IMEI, ICCID, APN, RSRP, RSRQ
Caractéristiques…
Cliquez

ici pour en savoir plus
AIDEZ VOS CLIENTS À RÉAGIR…
DÈS LE PREMIER JOUR !
FINANCEMENT CISCO CAPITAL
1 % de remise sur chaque contrat de vente
Vous souhaitez conclure des ventes plus rentables ? Obtenez une remise de 1 % sur chaque contrat de vente Cisco financé avec easylease ! Mais aussi…
Des produits de financement
Des offres
Un financement du cycle de vie
En savoir plus
Un réseau sur le cloud simplifié et abordable pour les petites entreprises
La combinaison d'appareils wi-fi Wifi et d'appareils branchés pour les petites entreprises pour un réseau rapide, sûr et fiable, le tout géré via une application mobile intuitive.
Réseau simple et sécurisé

Entreprises à site unique incluant jusqu'à 50 employés

Niveaux de prix réduits sur l'ensemble de la gamme de produits

L'idéal pour les entreprises qui s'y connaissent peu, voire pas du tout en informatique

Aucune licence d'abonnement requise – un branchement suffit et c'est parti !
PRÉSENTATION DE LA SOLUTION
Pourquoi Meraki Go est l'idéal pour votre clientèle de petites entreprises ?
Cette solution réseau sur le cloud simple offre toute la puissance du réseau d'entreprise en réponse aux besoins en constante évolution des petites entreprises, permettant ainsi à leurs dirigeants de contrôler leurs internet et wi-fi.
BESOIN D'UNE CONNECTIVITÉ CÂBLÉE ET SANS FIL ?
Offre une gamme de points d'accès, de passerelles de sécurité et de commutateurs réseau abordables
Créé des réseaux entreprise et client séparés
LA SÉCURITÉ DU WI-FI, UNE QUESTION IMPORTANTE ?
Propose des mises à niveau du micrologiciel automatiques, ainsi qu'un routeur et un pare-feu puissants
Garantit une sécurité continue et la protection des données vitales à l'entreprise
UNE SOLUTION RÉSEAU SIMPLE PRÊTE À L'EMPLOI ?
L'application intuitive guide les clients tout au long d'une procédure d'installation simple qui les permet d'être opérationnels en moins de 10 minutes
Gérez et personnalisez les paramètres du réseau pour répondre aux besoins particuliers de l'entreprise
Case Study: Ice and a Slice Studios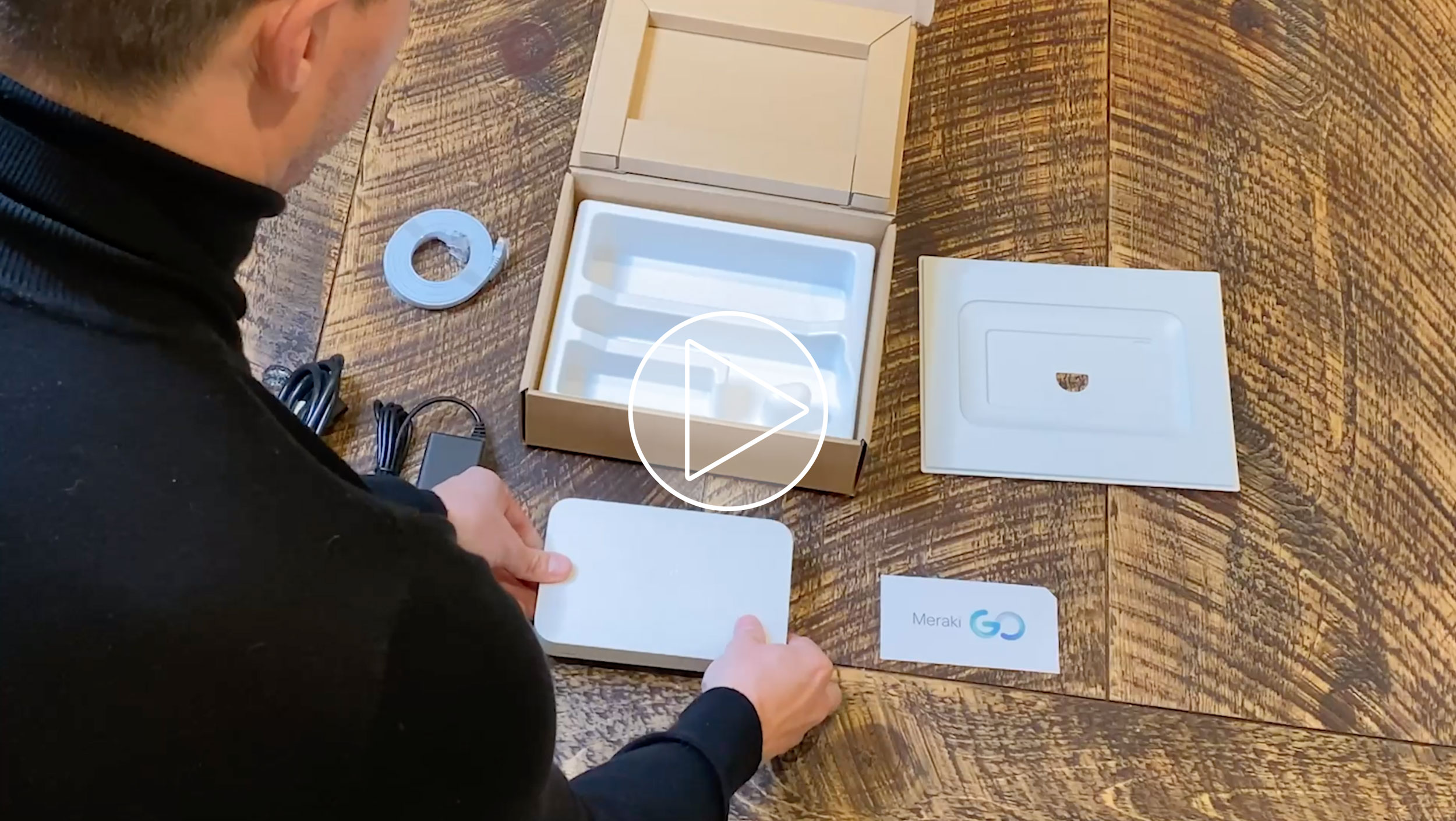 "We were surprised by a solution from Cisco Meraki that did everything we wanted and a whole lot more."
Simon Williams, Ice and a Slice Studios
SOUVENEZ-VOUS : PLUS UN UTILISATEUR RESTE, PLUS IL DÉPENSERA !
Meraki Go : une stratégie de vente simple pour les partenaires
FAIBLE INTERACTION, FAIBLE NIVEAU DE PRIX
Modèle de tarification simple
GRAND VOLUME DE VENTES
Ciblez votre clientèle de petites entreprises
La commande est simple ; nul besoin de passer par CCW pour vendre Meraki Go.
Achetez directement auprès d'Ingram Micro
Rendez-vous sur IM Online pour acheter les points d'accès, passerelles de sécurité et commutateurs réseau Meraki Go.
En personnalisant les paramètres d'un réseau, les entreprises ont la possibilité de créer des expériences uniques, offrant immédiatement une valeur ajoutée associée à une simplification des opérations et à une satisfaction accrue de l'utilisateur.
Souvenez-vous : plus un utilisateur reste, plus il dépensera !
Pour vous aider à décider si Meraki Go est la solution qui convient à vos clients,
consultez cette fiche d'aide à la prise de décision..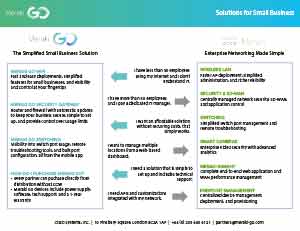 MERAKI GO, UNE SOLUTION ADÉQUATE ?
CIBLEZ LA BONNE CLIENTÈLE !
Petite entreprise
BUREAUX À SITE UNIQUE INCLUANT JUSQU'À 50 EMPLOYÉS
Commerce de détail
MAGASINS LOCAUX ET INDÉPENDANTS
Hôtellerie
MAGASINS LOCAUX COMPTANT MOINS DE 50 EMPLOYÉS
Adressez-vous à votre votre gestionnaire de compte Ingram Micro pour en savoir plus sur ce qui fait de Meraki Go une stratégie de vente simple et permettre ainsi la hausse de vos revenus
PARLONS-EN
Une vente simplifiée
Votre programme de génération de prospects pour encourager la vente de la solution Meraki
Augmentez vos opportunités avec Cisco Meraki et obtenez plus de prospects de qualité avec Ingram Micro. Récoltez des clients, établissez des revenus récurrents et renforcez la rentabilité en vendant Cisco Meraki.
S'INSCRIRE au programme
Générez des PROSPECTS de qualité
Développez une activité a RENTABLE avec Meraki
REGARDER LA VIDÉO
UN RÉSEAU SUR LE CLOUD PRÊT POUR L'AVENIR

QUI PARLE DE LUI-MÊME
ET PERMET LE MAINTIEN DE LA

RENTABILITÉ
Rejoignez le Programme des partenaires de Meraki
Devenez un partenaire de Meraki et offrez à vos clients une solution gérée sur le cloud qui développera leur activité.
LES AVANTAGES
EN SAVOIR PLUS
INSCRIVEZ-VOUS SUR LE PORTAIL CISCO MERAKI
OBTENEZ VOS « LIENS DE RÉFÉRENCE » MERAKI PERSONNALISÉS
ENVOYEZ DES E-MAILS À VOS CLIENTS AVEC VOTRE « LIEN DE RÉFÉRENCE » POUR S'INSCRIRE AU WEBINAIRE MERAKI
RAPPELEZ-LEUR QUE TOUS LES PARTICIPANTS SÉLECTIONNÉS AURONT DROIT À UN POINT D'ACCÈS GRATUIT
CONSULTEZ VOS PROSPECTS SUR LE PORTAIL
EFFECTUEZ LE SUIVI DE VOS PROSPECTS
ORIENTEZ

VOS CLIENTS VERS LE

WEBINAIRE CISCO MERAKI AUJOURD'HUI

Adressez-vous à votre gestionnaire de compte Ingram Micro pour en savoir plus sur notre programme de génération de prospects.

INGRAM MICRO - un véritable partenaire pour votre expérience Cisco Meraki !
PARLONS-EN