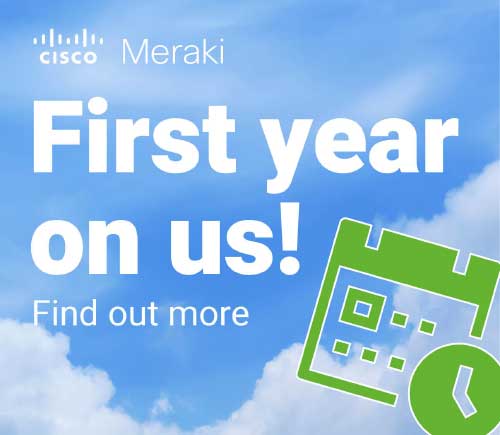 Get an additional year of coverage at no extra cost when purchasing a new Cisco Meraki cloud management license for 3 years or more!
POBIERZ FAQ
Łatwe do zrozumienia. Łatwe w sprzedaży.
Bezprzewodowe, łączeniowe, centralne zarządzanie bezpieczeństwem i urządzeniami w chmurze oferowane przez rozwiązanie Meraki zapewnia administratorom sieci widoczność i kontrolę bez konieczności ponoszenia kosztów i zmagania się ze złożonością tradycyjnej architektury.
TSkorzystaj z możliwości zapewnianych przez Cisco Meraki Partnerom wraz z Ingram Micro.
Najnowsze Meraki produkty
Nowo wdrożone ulepszone chmurowe rozwiązania sieciowe Meraki
Gama bramek Meraki zapewnia niezawodną łączność komórkową LTE każdemu urządzeniu brzegowemu w Twojej sieci, a do tego wgląd w połączenie umożliwiające sprawdzanie jego jakości.
Bramka komórkowa MG21 to prostsza bezprzewodowa łączność WAN, a tym samym bardziej opłacalna opcja uplink dla wielu sieci.

MG21 spełnia funkcję bramki do sieci komórkowych, przekształcając sygnał LTE dostawcy usług komórkowych na handoff sieci Ethernet do wykorzystania jako łącze internetowe w wielu zastosowaniach.
Zcentralizowane zarządzane przez sieć
Bezdotykowe samoobsługowe wdrażanie
Narzędzia do zdalnego rozwiązywania problemów
Secure, user-scheduled firmware updates
Zdalny wgląd w kluczowe parametry łączności komórkowej: IMEI, ICCID, APN, RSRP, RSRQ
Specyfikacje...
kliknij,

aby dowiedzieć się więcej
PRZYGOTUJ SWOICH KLIENTÓW DO DZIAŁANIA...
OD PIERWSZEGO DNIA!
FINANSOWANIE KAPITAŁOWE CISCO
Rabat w wysokości 1% na każdą transakcję.
Szukasz większych zysków z transakcji? Uzyskaj rabat w wysokości 1% na każdy zakup rozwiązania Cisco sfinansowany w oparciu o leasing easylease. Dodatkowo...
Produkty finansowe
Oferty
Finansowanie cyklu życia
Dowiedz się więcej
Praca w sieci w oparciu o chmurę jest teraz prosta i przystępna cenowo dla małych firm.
Ujednolicenie urządzeń Wi-Fi i urządzeń przewodowych w małych firmach umożliwia stworzenie szybkiej, bezpiecznej i niezawodnej sieci zarządzanej za pomocą intuicyjnej aplikacji mobilnej.
Prosta i bezpieczna sieć

Firmy działające w jednej lokalizacji i zatrudniające do 50 pracowników

Niższe punkty cenowe dla całego asortymentu

• Idealne rozwiązanie dla firm bez własnych zasobów IT

Brak potrzeby wykupywania subskrypcji – po prostu podłącz i działaj!
OMÓWIENIE ROZWIĄZANIA
Dlaczego Meraki Go to idealne rozwiązanie dla Twoich klientów MSP?
To proste chmurowe rozwiązanie sieciowe zapewnia wydajność sieci korporacyjnej dostosowaną do zmiennych potrzeb małych firm, dzięki czemu menadżerowie mają kontrolę nad Internetem i WiFi w firmie.
POTRZEBUJESZ ŁĄCZNOŚCI PRZEWODOWEJ I BEZPRZEWODOWEJ JEDNOCZEŚNIE?
Gama obejmująca przystępny cenowo punkt dostępu, bramkę bezpieczeństwa i przełącznik sieciowy
Oddzielenie sieci firmowej od sieci dla gości
CZY BEZPIECZEŃSTWO WI-FI MA DUŻE ZNACZENIE?
Automatyczne aktualizacje oprogramowania wbudowanego i wydajny router oraz zapora firewall
Stałe bezpieczeństwo i ochrona krytycznych danych biznesowych
PROSTE ROZWIĄZANIE SIECIOWE TYPU PLUG-AND-PLAY?
Intuicyjna aplikacja prowadząca klientów przez prosty proces instalacji – gotowość do działania w 10 minut
Zarządzanie ustawieniami sieci i dostosowywanie ich do indywidualnych potrzeb biznesowych
Case Study: Ice and a Slice Studios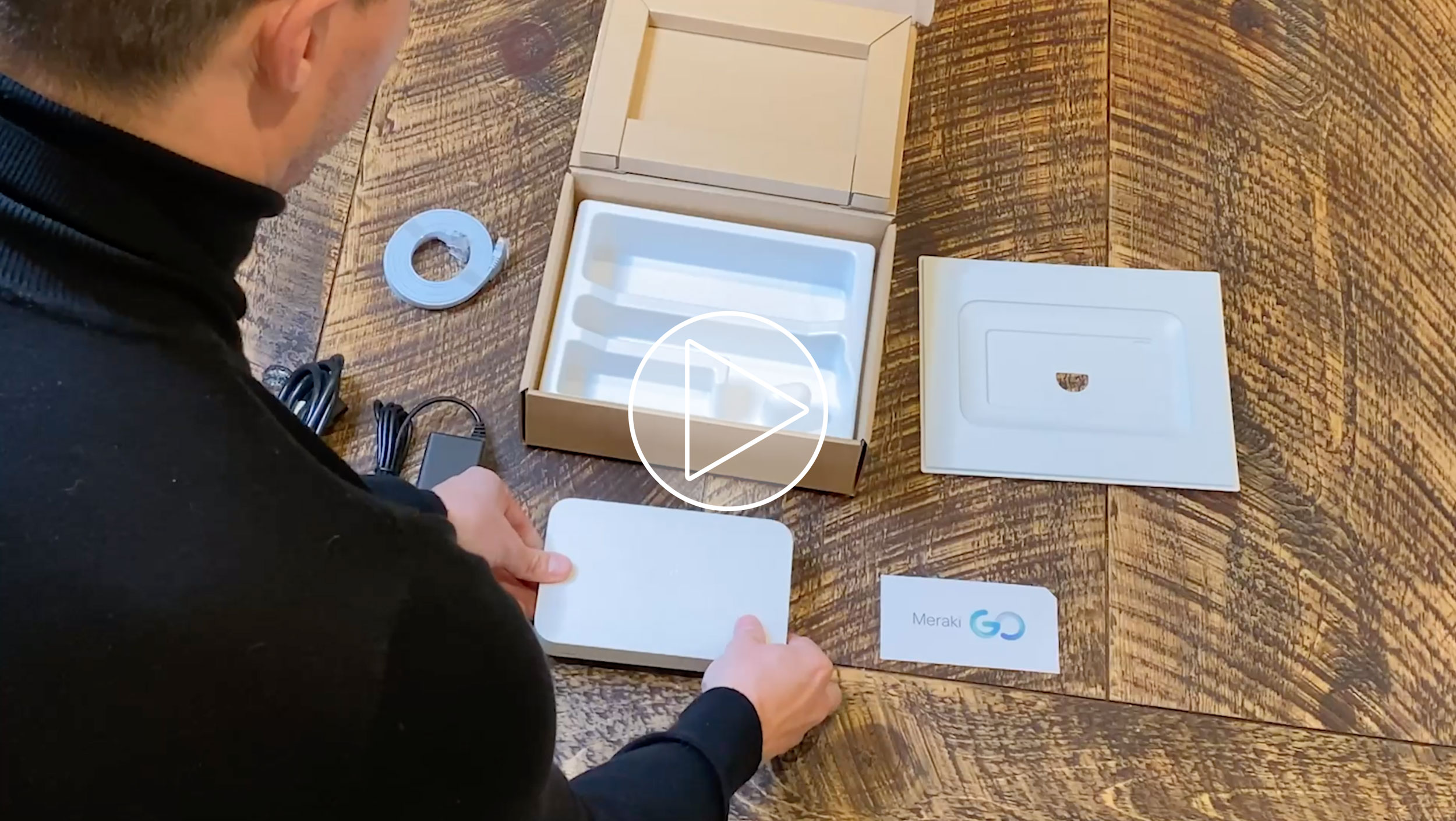 "We were surprised by a solution from Cisco Meraki that did everything we wanted and a whole lot more."
Simon Williams, Ice and a Slice Studios
PAMIĘTAJ: UŻYTKOWNICY, KTÓRZY POZOSTANĄ Z TOBĄ DŁUŻEJ, WYDADZĄ WIĘCEJ!
Strategia partnerskiej sprzedaży Meraki Go jest prosta
SPRZEDAŻ LOW TOUCH, NISKI PUNKT CENOWY
Prosty model ustalania cen
DUŻY WOLUMEN SPRZEDAŻY
Docelowi klienci z małych firm
Zamawianie jest proste – aby sprzedawać, nie potrzebujesz platformy CCW.Meraki Go.
Kupujesz bezpośrednio od Ingram Micro!
Contact us to purchase Meraki Go access points, security gateways and network switches.
Dostosowując ustawienia sieci, firmy mogą tworzyć niepowtarzalne wrażenia i od razu generować dodając wartość, usprawniając działania i zwiększając poziom satysfakcji użytkowników.
Pamiętaj: użytkownicy, którzy pozostaną z tobą dłużej, wydadzą więcej!
Jeśli potrzebujesz pomocy w określeniu, czy Meraki Go to rozwiązanie odpowiednie dla Twoich klientów
przejrzyj te gotowe do pobrania informacje dotyczące podejmowania decyzji..
CZY MERAKI GO TO DOBRY WYBÓR?
TRAF DO WŁAŚCIWYCH KLIENTÓW
MAŁE BIURA
BIURA DZIAŁAJĄCE W JEDNEJ LOKALIZACJI I ZATRUDNIAJĄCE DO 50 PRACOWNIKÓW
HANDEL DETALICZNY
LOKALNE I NIEZALEŻNE SKLEPY
HOTELARSTWO
LOKALNE PLACÓWKI ZATRUDNIAJĄCE DO 50 PRACOWNIKÓW
Porozmawiaj z opiekunem konta Ingram Micro, aby lepiej zrozumieć, co sprawia, że Meraki Go to prosta sprzedaż sprzyjająca zwiększeniu dochodów.
Porozmawiajmy
Sprzedaż stała się prostsza
Program pozyskiwania potencjalnych klientów pomoże w sprzedaży rozwiązania Meraki
Rozwijaj bazę potencjalnych klientów Cisco Meraki i zdobywaj więcej wysokiej jakości leadów z Ingram Micro. Zaangażuj klientów, rozwija źródła regularnych dochodów i zwiększaj zyskowność, sprzedając Cisco Meraki.
ZAREJESTRUJ swój udział w programie
Pozyskiwanie wysokiej jakości POTENCJALNYCH KLIENTÓW
Rozwiń ZYSKOWNĄ biznes Meraki
OBEJRZYJ WIDEO
PRZYSZŁOŚCIOWE ZARZĄDZANIE URZĄDZENIAMI SIECIOWYMI W CHMURZE,

KTÓRE MÓWI
SAMO ZA SIEBIE I POMAGA ZAPEWNIĆ CI

ZYSKOWNOŚĆ
Dołącz do programu partnerskiego Meraki
Zostań partnerem Meraki i oferuj swoim klientom zarządzane chmurowo rozwiązanie, które przeniesie ich działalność na wyższy poziom.
KORZYŚCI
DOWIEDZ SIĘ WIĘCEJ
ZAREJESTRUJ SIĘ NA PORTALU CISCO MERAKI
OTRZYMAJ SPERSONALIZOWANE ODNOŚNIKI POLECAJĄCE MERAKI
WYŚLIJ KLIENTOM E-MAIL Z ODNOŚNIKIEM POLECAJĄCYM DO ZAREJESTROWANIA SIĘ NA WEBINAR MERAKI
ZWRÓĆ KLIENTOM UWAGĘ, ŻE WSZYSCY KWALIFIKUJĄCY SIĘ UCZESTNICY OTRZYMAJĄ DARMOWY PUNKT DOSTĘPU
WYŚWIETLAJ SWOJE LEADY W PORTALU
MONITORUJ SWOJE LEADY
POLEĆ

KLIENTOM

SEMINARIUM INTERNETOWE MERAKI JUŻ DZIŚ

Porozmawiaj ze swoim opiekunem konta Ingram Micro aby dowiedzieć się więcej na temat programu pozyskiwania potencjalnych klientów.

INGRAM MICRO - prawdziwy partner dla Twojej przygody z Cisco Meraki!
Porozmawiajmy