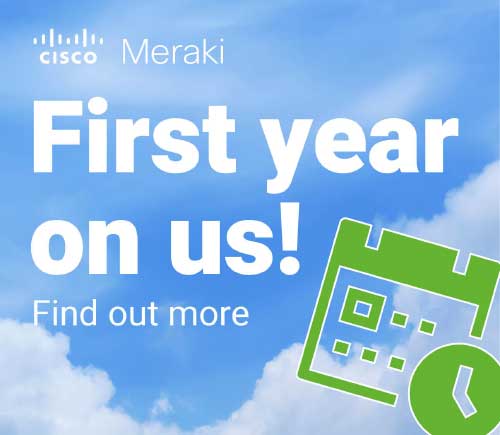 Get an additional year of coverage at no extra cost when purchasing a new Cisco Meraki cloud management license for 3 years or more!
DESCARCĂ FAQ
Simplu de înțeles. Ușor de vândut.
Cu gestionarea wireless, comutarea, securitatea și dispozitivele administrate centralizat de pe cloud, Meraki oferă administratorilor de rețea vizibilitate și control, fără costurile și fără complexitatea arhitecturilor tradiționale.
Profitați de oportunitățile oferite de Cisco Meraki partenerilor Ingram Micro.
Meraki Go
CLICK AICI
Simplificarea și accesibilitatea rețelelor de tip cloud pentru întreprinderile de mici dimensiuni
Ultimele produse Meraki
Soluții de cloud networking Meraki, nou lansate
Linia hardware Meraki Gateway oferă conectivitate sigură prin intermediul unei conexiuni celulare LTE pentru oricare dintre dispozitivele de network edge, precum și informații despre conectivitate pentru a înțelege calitatea conexiunii dumneavoastră.
Gateway-ul MG21 cellular simplifică calea către conectivitatea wireless WAN și face din acesta o opțiune viabilă de uplink pe mai multe rețele.

MG21 acționează ca un gateway la rețelele celulare, prin conversia semnalului LTE de la un furnizor de celule la un ethernet handoff, care poate fi utilizat ca o conexiune ascendentă la internet pentru o varietate de cazuri de utilizare.
Administrat central pe Web
Implementări cu zero suport si alocare automată a resurselor
Instrumente troubleshooting în system remote
Secure, user-scheduled firmware updates
Vizibilitate în sistem remote a informațiilor celulare cheie: IMEI, ICCID, APN, RSRP, RSRQ
Specifications...
Click

to find out more
AJUTAȚI-VĂ CLIENȚII SĂ FIE PREGĂTIȚI PENTRU AFACERI...
DIN PRIMA ZI!
FINANȚAREA CISCO CAPITAL
1% reducere la fiecare tranzacție.
Doriți tranzacții mai profitabile? Obțineți o reducere de 1% pentru fiecare deal Cisco finanțat cu easyleasing. De asemenea...
Finanțarea produselor
Oferte
Finanțarea pe durata ciclului de viață
Aflați mai multe
Simplificarea și accesibilitatea rețelelor de tip cloud pentru întreprinderile de mici dimensiuni
Unificați dispozitivele WiFi-enabled și plugged-in destinate întreprinderilor de mici dimensiuni, pentru a crea o rețea rapidă, sigură și fiabilă, toate gestionate printr-o aplicație mobilă intuitivă.
Rețea simplă și sigură

Afaceri cu o singură locație cu până la 50 de angajați

Puncte de preț scăzute pentru întregul portofoliu de produse.

Perfect pentru business-uri mici și medii fără o echipă de specialiști în IT

Nu este necesară licență pentru abonament – doar conectați-vă și accesați!
PREZENTARE GENERALĂ A SOLUȚIEI
De ce Meraki Go este perfect pentru clienții dvs. cu business-uri de mici dimensiuni?
Această soluție simplă de rețea bazată pe cloud oferă puterea rețelelor de a se raporta la necesitățile în continuă schimbare ale întreprinderilor mici, oferind managerilor controlul asupra internetului și a rețelei WiFi.
AVEȚI NEVOIE ATÂT DE CONECTIVITATE CU FIR, CÂT ȘI DE CONECTIVITATE WIRELESS?
Oferă un Access Point accesibil și un portofoliu de produse în care sunt incluse Security Gateway și Network Switch
Creați rețele separate de business si guest
SECURITATEA WI-FI-ului ESTE UN CONSIDERENT IMPORTANT?
Cu actualizări puternice și automate de firmware și router&firewall
Asigurați-vă de continuitatea securitatii și păstrați datele esențiale ale afacerii dvs. în siguranță
SOLUȚIE SIMPLĂ DE CONECTARE ȘI REDARE ÎN REȚEA?
Aplicațiile intuitive ghidează clienții printr-un proces simplu de instalare - acestea vor funcționa în mai puțin de 10 minute
Gestionați și personalizați setările de rețea în funcție de nevoile individuale ale companiei
Case Study: Ice and a Slice Studios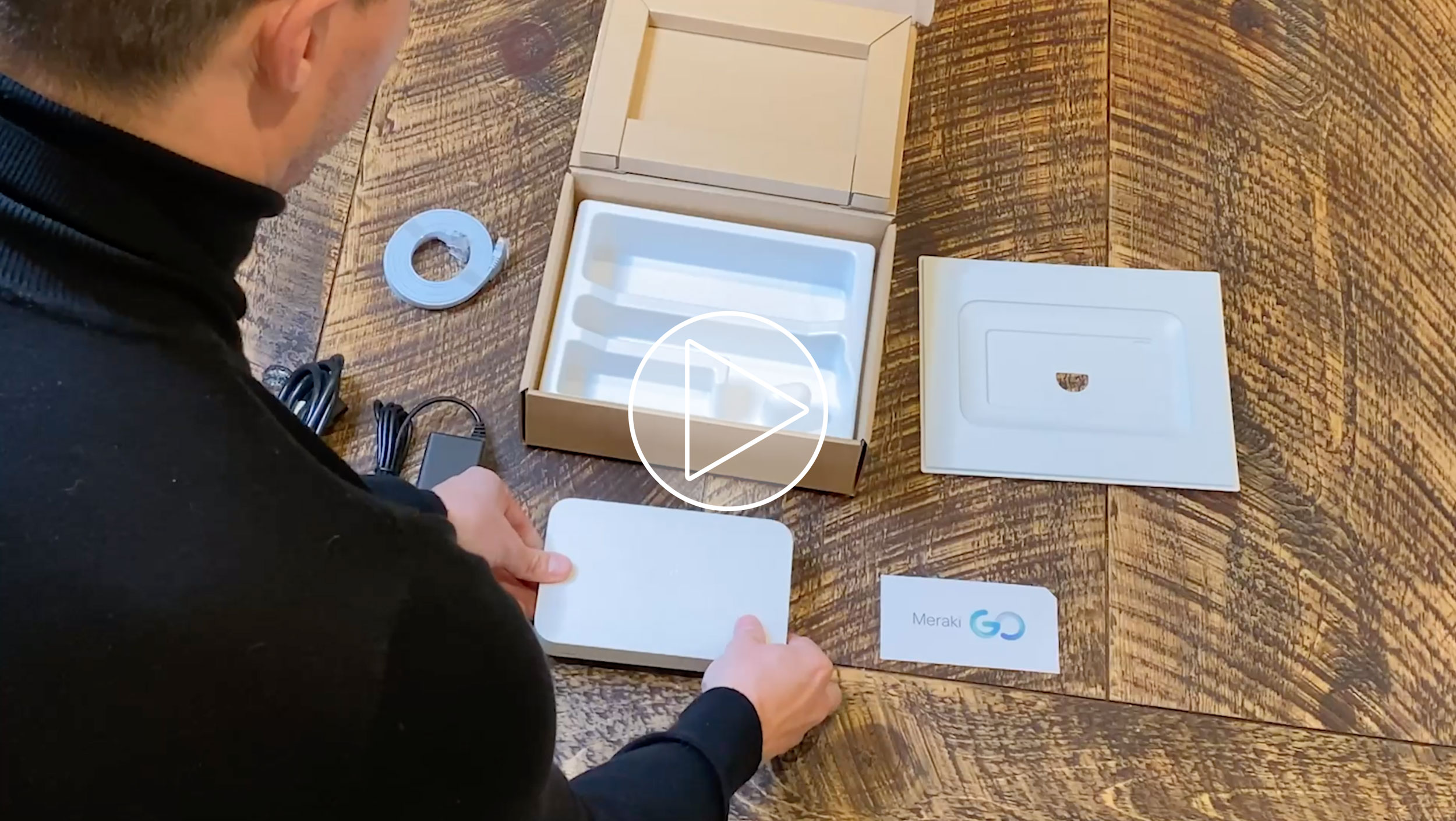 "We were surprised by a solution from Cisco Meraki that did everything we wanted and a whole lot more."
Simon Williams, Ice and a Slice Studios
REȚINEȚI! UTILIZATORII CARE RĂMÂN MAI MULT - CHELTUIESC MAI MULT!
Strategia de vânzare pentru partenerii Meraki Go este simplă
SUPORT REDUS, PUNCT DE PREȚ SCĂZUT
Model simplu de stabilire a prețurilor
VÂNZĂRI ÎN VOLUM MARE
Țintește clienții cu afaceri de mici dimensiuni
Plasarea comenzilor este simplă – nu trebuie să accesați CCW pentru a vinde Meraki Go.
Achiziționați direct de la Ingram Micro
Contactați Account Managerul Ingram Micro pentru mai multe detalii.
Prin personalizarea setărilor de rețea, companiile pot crea experiențe unice, adăugand imediat valoare pe măsură ce fluidizează operațiunile și sporesc satisfacția utilizatorilor.
Rețineți! Utilizatorii care rămân mai mult - cheltuiesc mai mult!
Pentru a vă ajuta să decideți dacă Meraki Go este solutia potrivită pentru clienții dvs,
aruncați o privire asupra acestui document.
Este Meraki Go o soluție potrivită?
TARGETAȚI CLIENȚII POTRIVIȚI!
BIROURI MICI
AFACERI CU O SINGURĂ LOCAȚIE CU PÂNĂ LA 50 DE ANGAJAȚI
RETAIL
MAGAZINE CU VITRINE LOCALE ȘI INDEPENDENTE
OSPITALITATE
MAGAZINE LOCALE CU MAI PUȚIN DE 50 DE ANGAJAȚI
Discutați cu Account Manager-ul Ingram Micro pentru mai multe informații despre strategiile de vânzare Meraki și despre creșterea veniturilor.
Let's Talk
Simplificarea strategiilor de vânzare
Programul dvs. lead generation program care vă ajută să vindeți soluțiile Meraki
Dezvoltați pipeline-ul Cisco Meraki și capturați mai multe oportunități cu ajutorul companiei Ingram Micro. Generați venituri recurente și sporiți profitabilitatea vânzând Cisco Meraki.
ÎNREGISTRAȚI-VĂ pentru a accesa programul
Generați Lead-uride calitate
Construiți oafacere Meraki profitabilă
VIZUALIZAȚI VIDEO-UL
REȚEA DE TIP CLOUD,

PREGĂTITĂ PENTRU VIITOR,
CARE VĂ AJUTĂ SĂ RĂMÂNEȚI

PROFITABIL
Alăturați-vă programului Meraki, dedicat partenerilor
Deveniți un partener Meraki și oferiți clienților dvs. o soluție de administrare cloud care le va duce afacerea la următorul nivel.
BENEFICII
CITEȘTE MAI MULT
ÎNREGISTREAZĂ-TE ÎN PORTALUL CISCO MERAKI
OBȚINEȚI "REFERAL LINKS" PERSONALIZATE
CONTACTAȚI-VĂ CLIENȚII CU LINK-UL DVS "REFERRAL LINK" PENTRU A VĂ ÎNREGISTRA LA WEBINAR MERAKI
AMINTIȚI-LE TUTUROR PARTICIPANȚILOR ELIGIBILI CĂ VOR PRIMI UN PUNCT DE ACCES GRATUIT
VIZUALIZAȚI LEAD-URILE PE PORTAL
FACEȚI FOLLOW UP CĂTRE LEAD-URI
ÎNDRUMAȚI

CLIENȚII CĂTRE

WEBINAR-UL CISCO MERAKI, ASTĂZI

Discutați cu Account Manager-ul Ingram Micro pentru mai multe informații despre programul nostru de generare a oportunităților.

INGRAM MICRO - un partener adevărat în călătoria dvs. Cisco Meraki!
VĂ INVITĂM LA O DISCUȚIE