New Cisco Business Mobile App and Cisco Business 220 Series Smart Switches
The Cisco Business portfolio of network devices and software are purpose built for the growing needs of SMBs. Today, we are thrilled to introduce two new products to the Cisco Business family.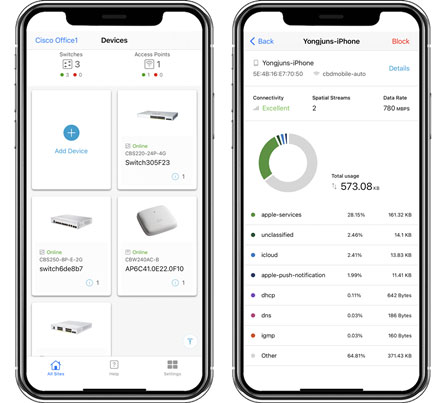 New Cisco Business Mobile App (Available in Apple Appstore from June 15th)
Mobile App feature highlights
Set up the local network in minutes
Gain network insights like connected clients and application usage
Identify network issues in minutes, and troubleshoot the problem
Supports:

Cisco Business 220, 250 and 350 series switches
Cisco Business 140 and 240 series wireless access points and mesh extenders

Android version on Roadmap
Cisco Business 220 series smart switches to take back share from Ubiquiti Unifi Switch (Orderable now!)
The Cisco Business 220 Series are simple and affordable smart switches for business-class networks. With mobile app support, Cisco Business Dashboard, and multiple PoE+ options, CBS220 delivers a robust network within budget constraints.

Cisco Business 350 series new model introduction (Orderable now!)
The Cisco Business 350 series switches deliver 2.5G, 5G or 10G speeds with optional 60W PoE at affordable prices to help small businesses take advantage of the latest wireless technologies with maximum performance.
Download datasheet: CBS350

With a comprehensive portfolio and intuitive user experience, Cisco Business Switches provide solid building blocks for any small business network.
Logga in
To download this content please join our flyHigher Partner Program
Terms and Conditions
By registering to Ingram Micro's flyHigher Partner Program, you opt in and agree to receive email communications from Ingram Micro flyHigher. Please note that the flyHigher database with your email address and other contact details is located in the EU and separate from Ingram Micro's databases, but subject to Ingram Micro's general privacy statement. If you wish to manage your preferences with Ingram Micro please do so at www.ingrammicro.com. If you wish to opt out from receiving emails from flyHigher or be removed from the flyHigher database, please email us here.

1. Select your country
Your file is downloading...
flyHigher Benefits
Sales Stage
flyHigher Benefit

Then Profile

Premium Profiled

Learning and Skills

Help to Sell

Access premium, reseller specific content to understand and increase sales and profitability of Cisco opportunities
First to market with opportunities and promotions in your focus Cisco architectures
Demand generation tools
RFP support & BOM analysis

Improving face to face interactions

Virtual briefings
Virtual Product Demonstrations
Virtual workshops

2 Briefings per Quarter

&nbsp

2 Briefings per Quarter

&nbsp

Making the sale

Technical remote coaching & mitigate competitors advantages
Infrastructure assessments