Establish policy based network management and deliver apps quickly, securely and reliably from core to edge to cloud.
BE A LEGEND WITH INGRAM MICRO!
Boosting refresh opportunities
Claim your share of new sales
Help customers innovate faster
TOP PERFORMER
Cisco UCS Servers
Delivering tangible operational and financial benefits
45%
Lowers Total Cost of Ownership
75%
Increase in efficiency
227%
Increase in ROI over 5 years
BANGING BENEFITS
higher performance
access bug & security fixes
lower operational & support costs
stay secure & compliant
unlock latest features
reduced system downtime
enhance and transform operation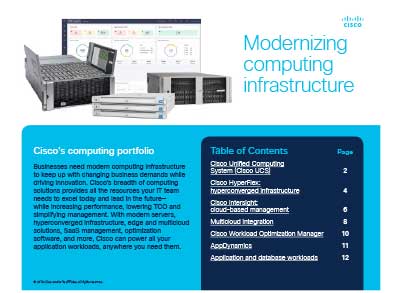 Understand Cisco UCS and modernising infrastructure
Find out more
PROMOTION
Migrate customers to capture this huge opportunity that already exists within your UCS customer install base.
Download Full Promotion Details
DOWNLOAD NOW
YOU... earn REWARDS for EACH QUALIFYING CISCO UCS DEAL of almost any size
CUSTOMERS… free UPGRADES to FABRIC INTERCONNECTS and 1 YEARS FREE SUBSCRIPTION to CISCO INTERSIGHT ESSENTIALS
YOUR TARGET AUDIENCE
RE...FRESH
Cisco UCS equipment older than 3 years
RE...CAPTURE
Haven't purchased Cisco UCS in over 2 years
RE...TAIN
Top active Cisco UCS customers