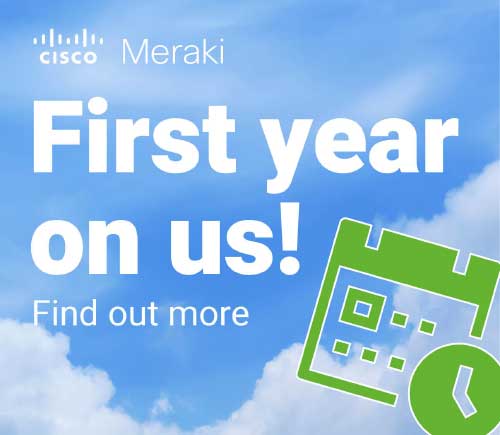 Get an additional year of coverage at no extra cost when purchasing a new Cisco Meraki cloud management license for 3 years or more!
Download FAQ
Simple to understand. Easy to sell.
With wireless, switching, security and device management centrally managed from the cloud, Meraki gives network administrators visibility and control, without the cost and complexity of traditional architectures.
Take advantage of the opportunities Cisco Meraki brings to Partners with Ingram Micro.
Latest Meraki Products
Newly launched enhanced Meraki cloud-networking solutions
The Meraki Gateway line of hardware provides reliable connectivity over an LTE cellular connection for any of your network edge devices, as well as connectivity insights to understand the quality of your connection.
The MG21 cellular gateway simplifies the path to wireless WAN connectivity and makes cellular a viable uplink option many networks.

MG21 acts as a gateway to cellular networks, by converting LTE signal from a cellular provider to an ethernet handoff, which can be used as an internet uplink for a variety of use-cases.
Managed centrally over the web
Zero-touch, self-provisioning deployments
Remote troubleshooting tools
Secure, user-scheduled firmware updates
Remote visibility of key cellular information: IMEI, ICCID, APN, RSRP, RSRQ
Specifications...
Click

to find out more
HELP YOUR CUSTOMERS BE READY TO BUSINESS...
FROM DAY ONE!
CISCO CAPITAL FINANCE
1% rebate on every deal.
Want more profitable deals? Get a 1% rebate on every Cisco deal financed with easylease. Also...
Financing Products
Offers
Lifecycle Financing
Find Out More
Cloud networking made simple and affordable for Small Business
Uniting WiFi-enabled and plugged-in devices for small businesses to create a fast, safe and reliable network, all managed through an intuitive mobile app.
Simple and secure networking

Single site businesses with up to 50 employees

Lower price points across the entire product portfolio

Perfect for businesses with little or no IT knowledge

No subscription licensing required - just plug in and go!
Solution Overview
Why Meraki Go is perfect for your Small Business customers?
This simple cloud-based networking solution provides the power of enterprise networking to the everchanging needs of small businesses, giving managers control over their internet and WiFi.
REQUIRE BOTH WIRED AND WIRELESS CONNECTIVITY?
Offers an affordable Access Point, Security Gateway and Network Switch product portfolio
Create separate business and guest networks
WI-FI SECURITY IS AN IMPORTANT CONSIDERATION?
With automatic firmware updates and powerful router and firewall
Ensure continuous security and keep business-critical data safe
SIMPLE PLUG-AND-PLAY NETWORKING SOLUTION?
The intuitive app guides customers through simple installation process - they'll be up and running within 10 minutes
Manage and customise the network settings to individual business needs
Case Study: Ice and a Slice Studios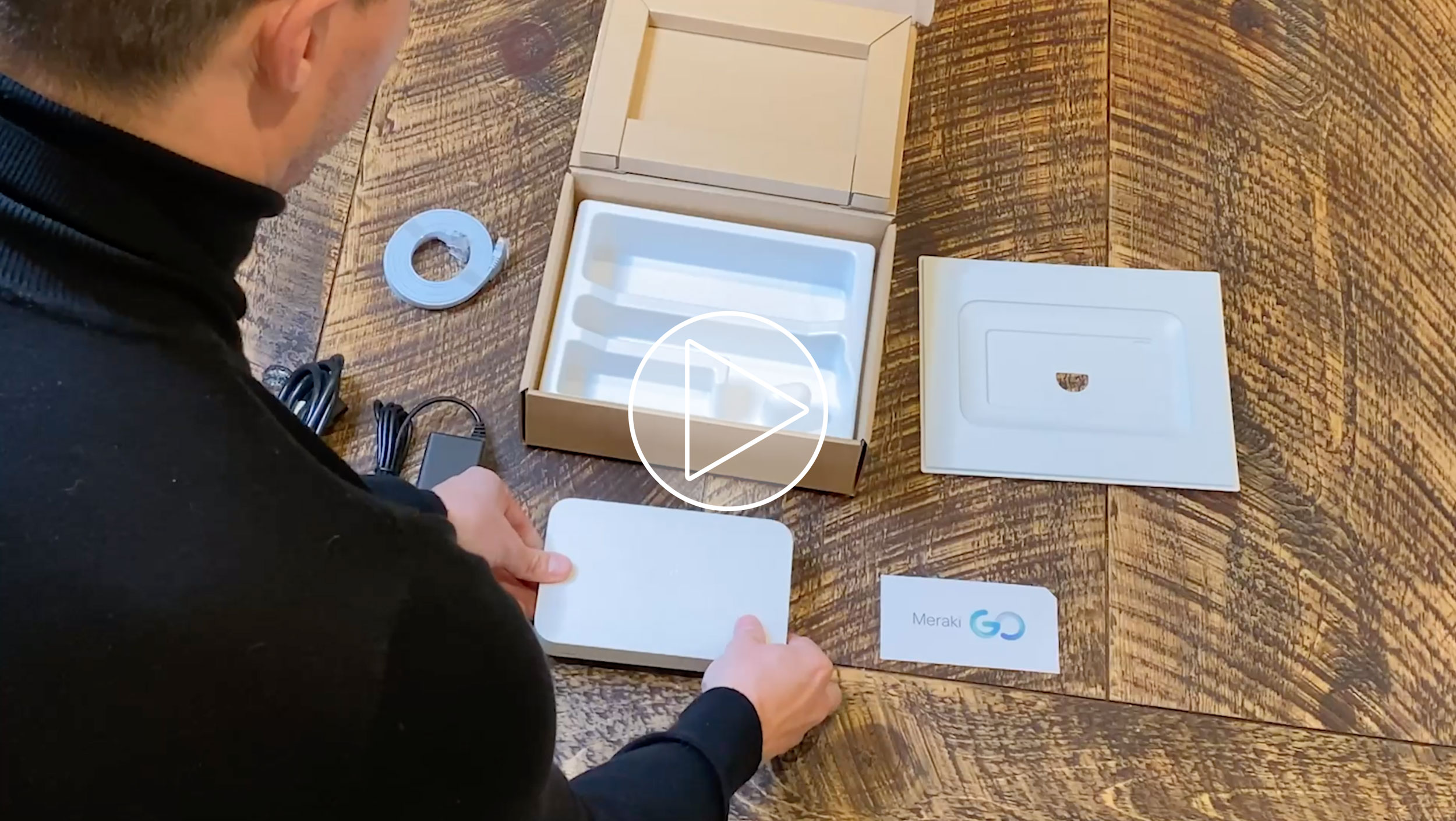 "We were surprised by a solution from Cisco Meraki that did everything we wanted and a whole lot more."
Simon Williams, Ice and a Slice Studios
REMEMBER USERS THAT STAY LONGER - SPEND MORE!
The Partner selling strategy for Meraki Go is simple
LOW TOUCH, LOW PRICE POINT
Simple Pricing Model
HIGH VOLUME SALE
Target small business customers
Ordering is simple – you don't need to go through CCW to sell Meraki Go.
Buy direct from Ingram Micro
Go to IM Online to purchase Meraki Go access points, security gateways and network switches.
By customising network settings, businesses can create unique experiences, immediately adding value as they streamline operations and increase user satisfaction.
Remember users that stay longer - spend more!
To help you decide if Meraki Go is right for your customers,
take a look at this decision-maker download.
IS MERAKI GO RIGHT?
TARGET THE RIGHT CUSTOMERS!
Small Office
SINGLE-SITE OFFICES WITH SUB 50 EMPLOYEES
Retail
LOCAL & INDEPENDENTLY OWNED STOREFRONTS
Hospitality
LOCAL SHOPS WITH LESS THAN 50 EMPLOYEES
Speak to your Ingram Micro Account Manager for more information on what makes Meraki Go a simple sell to help increase revenue
Let's Talk
Selling Made Simple
Your lead generation program to help you sell Meraki
Grow your Cisco Meraki pipeline and capture more quality leads with Ingram Micro. Get customers onboard, develop recurrent revenue and increase profitability by selling Cisco Meraki.
REGISTER for the Program
Generate quality LEADS
Build a PROFITABLE Meraki business
Watch Video
FUTURE-READY CLOUD NETWORKING

THAT SPEAKS
FOR ITSELF AND HELPS YOU REMAIN

PROFITABLE
Join the Meraki Partner Program
Become a Meraki Partner and offer your customers a cloud-managed solution that will take their business to the next level.
The Benefits
Read More
REGISTER TO THE CISCO MERAKI PORTAL
GET YOUR CUSTOMISED MERAKI 'REFERRAL LINKS'
EMAIL CUSTOMERS WITH YOUR 'REFERRAL LINK' TO REGISTER FOR THE MERAKI WEBINAR
REMIND THEM ALL QUALIFYING ATTENDEES WILL RECEIVE A FREE ACCESS POINT
VIEW YOUR LEADS ON THE PORTAL
FOLLOW-UP WITH YOUR LEADS
REFER

CUSTOMERS TO THE

CISCO MERAKI WEBINAR TODAY

Speak to your Ingram Micro Account Manager for more information on our lead generation program.

INGRAM MICRO - a true Partner on your Cisco Meraki journey!
Let's Talk